Charlotte Marketing Consulting Firm Hits Triple During 1st Quarter 2005 Three Charlotte Companies pick aro for Marketing Projects
CHARLOTTE, N.C. – Three diverse Charlotte companies picked aro for three separate and distinct challenges. The Queen City marketing firm scored a trifecta in the first three months of 2005, landing new business with Emulsion Arts, Business Partner and Steele Creek Church.
Small business owners often need answers fast and that's where aro really shines. Chuck Robbins, aro founder and president explains: "We run our business as a boutique because that ensures that every client has direct access to the principals. We specialize in proven, effective and affordable marketing solutions for small business."
aro understands small business challenges yet brings big-time experience to bear for its clients. "Our experience and hands-on expertise in numerous disciplines have proven valuable to our clients in very diverse businesses," said Robbins. These new accounts come on the heels of a reorganization of the brand over a year ago. Robbins explains: "We saw a shift in our core business and changed to fit the needs of our clients. Obviously, that change is paying off for us and our clients."
Emulsion Arts is aro's newest client. EA, an award-winning Charlotte film and video production firm, has tapped the firm to develop a strategic marketing plan for the filmmakers. Take One for Robbins is to work with EA principals Joanne Hock and Doug Adams to form a new brand and create an appropriate business plan and funding strategy for several independent film projects.
Emulsion Arts has a long history creating high-end commercial film productions for clients nationwide. "Road Trip," a recent production for Luquire, George, Andrews and their client, The Bobby Phils Foundation, grabbed all the gold at the prestigious New York International Film & Video Festival in New York City. In addition to a Gold World Medal, EA also won the Grand Prize, beating out entries from all over the world. "Road Trip," is a 10-minute public service piece, established in memory of Bobby Ray Phills, former Charlotte Hornets star who died tragically in a high-speed car crash. The Film Foundry (another aro client) provided post-production services. www.emulsionarts.com.
---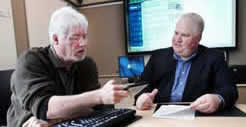 Business Partner franchise owner Jay Johnson, who recently joined the aro client roster has a need for speed. "Robbins' knowledge of the market and his sensible creative approach have helped our new Business Partner franchise in Ballantyne to get off the ground quickly", said Johnson. Johnson is a former Accenture Partner with 20 years experience in management consulting. He led client relationships and a delivery of large-scale change programs in the health care industry. aro believes Johnson is a great client because of his own high end consulting experience. In addition, Business Partner now provides aro with support in the tactical implementation needed for our own marketing services. "Jay's group offers numerous valuable services such as wide format printing, presentation development, promotional items, graphics support, multimedia, trade show displays and much more," says. For a full listing of their services visit www.BusinessPartner.com.
---

It's all about the Word and the Welcome for Charlotte's Steele Creek Church, another new client. aro was hired to help deliver web strategies with Catherine Plough, a communications consultant working with the church staff. The Steele Creek website provides an interactive and informative look into the Church and it's ministries. aro's web guru Mike Bader will use his expertise in web development along with many aro other assets to support this project. Steele Creek's administrator Bill Schell stated, "aro has brought to us great organizational and design skills in the redevelopment of our web site".
The new site features some excellent photography shot by Steele Creek member Scott Ely along with contributions from numerous other staffers and lay ministry leaders. The Steele Creek website will premiere in May in time to help promote the 10th Anniversary of the Congregation. Steele Creek Church of Charlotte is located off Arrowood Road just a mile or so from the intersection with Interstate 77. The Church is dedicated to the people of that fast growing section of Charlotte but members come from Monroe, Matthews, and several areas in South Carolina. www.steelecreek.org.
---
Robbins has years of experience in management, consulting, partnerships, public relations and tenure as a marketing director. It gives him the insight to direct the aro team and create refined marketing solutions for its clients. Robbins has provided his expertise to companies such as American Express, Joe Gibbs Racing, Downs Group, InfoVision, Mindblazer.com, Peak 10 and others. Michael Thayer, aro stockholder and consultant, brings valuable leadership to aro with experience in large-scale organizational change, supply chain management, e-Business-transformation, and information systems. He specializes in marketing planning, and business development for the market space addressing e-Commerce, and technology.
aro is a specialized marketing boutique, offering services in research, marketing planning, branding, public relations, internet design and digital communications. aro serves small business clients in media, emerging technology, sports, entertainment, real estate, financial services and human capital companies. Some Recent clients include: Advantage Plus Group, The Film Foundry, Scottish Bank, American Express, Joe Gibbs Racing, InfoVision and Peak 10.