Charlotte's aro: Cooking Up a New Marketing Plan with Author Leanne Ely
The Dinner Diva is Creating a New Web Presence and Releasing a New Book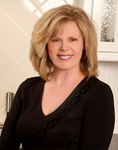 March 9, 2009 – Charlotte, NC. Charlotte, NC. Leanne Ely has never been a procrastinator. She knew by the close of 2008 that her business was growing exponentially and that she could benefit from some assistance in planning and managing that growth. So first on the New Year's list for 2009 was contacting aro, a Charlotte marketing firm with a solid record for effectively moving small businesses to the next level.
Leanne Ely, also know as the "Dinner Diva," is a nutritionist extraordinaire, targeting women, primarily, who are health, time and budget conscious. Plans for growth in the variety, volume and exposure of her unique offerings led her to contract with aro, with the goal of penetrating even more households with her healthy mealtime strategies.
Founder of SavingDinner.com, Ely has authored 10 lifestyle and cooking books, including "Body Clutter," which landed her on the New York Times Bestseller List. Her popular online radio show, "Saving Dinner with the Dinner Diva," is a more recent addition to Ely's wide and varied media exposure, which includes a column, carried in 250 newspapers nationwide. Ely has been called "the expert on family dinners by Women's Day magazine and frequently appears on TV and as an event speaker.
"Leanne definitely has the 'product' that is very much in demand," comments Chuck Robbins, president of aro. "She understands the importance of relationships and mealtime, as well as the stress of making food inviting, nutritious, and cost effective – even when there are specific dietary requirements. She has the answers for people who are cooking at home again."
According to Robbins, aro has agreed to develop a marketing plan and public relations campaign around The Dinner Diva's new web site, an upcoming book to be released by Ely, as well as solutions for managing the growing demand for Ely via web, television and public appearances. In addition, Ely's already popular brand will be will made be available to sponsors as it expands into several key markets.
"I've built my business by marrying expertise, market demand and intelligent business decisions," comments Ely. "I believe my partnership with aro is the next smart step in making life enhancing information available to families everywhere."