New Web Site Unveiled, Marking Final Phase of Popular Mountain Development Near Lenoir.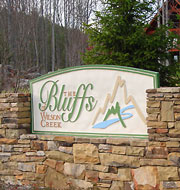 April 16, 2007 – Charlotte, NC. Just 20 miles west of Lenoir, NC is one of the state's fast-growing mountain communities – The Bluffs of Wilson Creek. On Saturday, April 21, the public is invited to see the development first-hand and take in the beauty of this planned community bordering the Pisgah National Forest. Prior to that date, however, nature lovers and outdoor sports enthusiasts can get a feel for all the development has to offer by visiting the new web site created for The Bluffs of Wilson Creek at www.landatthebluffs.com.
The new site is the creation of aro Solutions, a Charlotte-based marketing firm hired by developers of the project to manage its promotions and marketing. This month, the firm unveiled the site as part of its strategy to draw potential homebuyers and investors to the community to preview lots now available in the project's third – and final – phase. One hundred additional lots will be made available for purchase this month. Detailed information about The Bluffs of Wilson Creek including lots, locations, availability and pricing may be found at the new site.
"Creating a web site that truly reflects the amenities of this community and this part of the state has been our challenge," comments aro President Chuck Robbins. "We believe we have captured its key features, such as the unmatched location along the Pisgah National Forest, the size of the lots and outstanding value, its pedestrian-friendly environment and year-round beauty."
The site is one part of a broader phase three promotions effort, says Robbins. In March, a toll-free number was introduced for responders. An aggressive print and electronic ad campaign was launched throughout the state and beyond this month, targeting investors and those with an appreciation for the value of NC mountain properties – particularly acreage the popular Lenoir area.
The Saturday, April 21st preview event will be a festive day that includes food, prizes and tours. Preview appointments need to be scheduled in advance. For specific information about the properties or to set up a tour, send email to info@landatthebluffs.com or call the toll-free information line at 1.888.515.1161.