Quick2Brand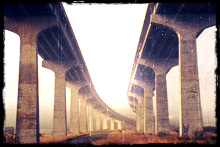 aro has developed this process for companies who need to get their image and branding off to a fast start. Typically, the client that needs this service is a client who has decided to pull the trigger on a new business or division or react to a market change. They have a trade show or event pending and have a short fixed time period in which to gain traction. aro can provide the Quick2Brand remedy for Corporate Image, Public Relations, Web, and other basic brand executions. The advent of Social Media has provided powerful, fast, new tools which augment our traditional approach. "Buzz" can be generated instantly to gain real results overnight especially with the Power News Blast.
Need to Shout About Something at Your Company? Need to Move Quickly?
New Products • Trade Shows • Events • Investors • Special Promotions • Market Changes
Need to climb Google faster?
Want Excellent Backlinks?
Media Coverage
Web Site Traffic
Use an aro Power News Blast from Vocus
It turns your news into an SEO machine. You can get your content onto search engines and news sites. You can add keywords, pictures and video to get more people reading and writing about your business. You can even share your news on social media to amplify your results. The fastest way to start is to call me today. But if you need more info check out the following:
The Power-PR Package from aro has been used very effectively by most of our customers. It creates Broad media touches. We have received as many as 20 media requests on a single release and we had over 400 links of our release to news sites
Typically we "own the search engine results" in the first 48 hours of distribution. Releases stay on search for years but do not dominate like the first few days. (I still receive email and phone calls from an "Ultimate Gift" release created in 2007)
Great for merchandising good news to employees, sponsors or board of directors.
Excellent for edging competitors
1.2 million plus database of editors, journalists bloggers, producers. Every important media contact in the United States
Powerful Analytics to back up everything that we do
Quick response. Under normal circumstances we can put one of these together in 2-3 days
Targeting by DMA and Industry
Your URL live at the bottom of the release (scroll down release to see on any of our examples)
Following this up with our Social Media implementation, and the extensive Vocus Database of reporters, Journalists, producers, and bloggers, we can amplify the response to every release significantly.
Anyone can do a press release. The system we use is not the same button that most people use for their PR distribution. We have honed this delivery system over several years and we know how to target audiences and manage keyword effectiveness in order to get the maximum results.
Every release works differently depending on the content, and timing but as you can tell from this broad cross section of clients they all work when aro manages the process!. A press release is a tactic not a strategy. They do create quite an impact for my customers at a very low investment.
Here's some recent results by client:
December 13, 2012 – Renew Health and Wellness
Click here to read the full story »
November 15, 2012 – Great American Things
Click here to read the full story »
Great American Things
results from first 24 hours.
40,527 headline impressions (only one other release has seen this level of success in one day
Over 400 media links
2 Radio Interview requests
3974 Media Deliveries
Powerful Search engine returns
Specific Web Traffic (over 500 visitors to the site yesterday, 41 specifically attributable to the system)
All proven by our proprietary analytics and Google Analytics. This is not the first time! Similar results have been happening for
Metropolitan Ballroom
and many of our other clients in the last few months. I don't know of a marketing tool anywhere (under $3,000) that you can accomplish so much in such a short time period. It's 4th quarter. Isn't time to call aro?
See all results…
"If you are trying to get to the moon, you must determine whether you are going to construct a bridge or take a rocketship. The aro service offering can accommodate both, but they are clearly better at the rocket approach".

—Mike Thayer, IBM Marketing Manager