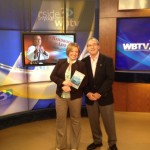 Author and speaker Richard London continues to utilize aro's premium press release (Public Relations) for the marketing and introduction of the 2nd edition of his personal empowerment book, 'A Handbook for Life'. Some of the updated features from the first version, released in January of this year, include a revamped jacket with modifications to some of the chapters and exercises. The new edition is for sale at Barnes and Noble and most major booksellers. The title also represents the name of his seminar series, which continues this fall.
The success from his premium press release includes landing an interview on Charlotte's WBTV where Richard shares his formula for happiness. You can go here to see the full interview.
London continues to share the fundamentals of his book with a variety of audiences. On October 17, he will keynote the Southeastern Parkinson's Disease Conference in Atlanta, Georgia, and on October 23, he will conduct his own 'A Handbook for Life' seminar in Charlotte, North Carolina. He will also be a keynote speaker January 9, 2011 in Charlotte for the Society of Women Engineers. The seminar will be a half-day seminar. For more details on the release of his book and upcoming seminars see his website at http://www.ahandbookforlife.com.
Please join us in congratulating Richard and wishing him continued success!
Note: Richard has used the aro public relations tool "Quick2Brand" on numerous occasions. This is a process that combines Press Release Distribution, Targeted Media follow-up, Social Media and much much more. Our last three Press Releases have received over a million views online. Contact us today for more information and pricing.